Get to know New Mexico's best pollinators…
Join Olivia Carril on a walk and talk about the bees that live in the Albuquerque area.  The event will be a hybrid—in person and virtual.  Only a limited number of people may attend in person, but the event will be live-streamed so that others can attend.
…all along the Rio Grande Bosque
The event will be held south of the National Hispanic Cultural Center and near McEwan pond, an area recently restored with native vegetation. Come get ideas for your own spaces, and watch the bees enjoy the new plantings. Participants will explore 2.6 acres recently planted with over 250 native New Mexico trees, shrubs, grasses, cacti, and other xeric plants and explore the relationship between these plants and the bees that pollinate them.  
The event will begin at 1pm on Friday, June 18 2021.  
To attend, please R.S.V.P. by e-mailing:  Dr. Polechla at:  ppjjpprt66@gmail.com for exact directions and instructions before 16 June 2021.
Catch the Buzz!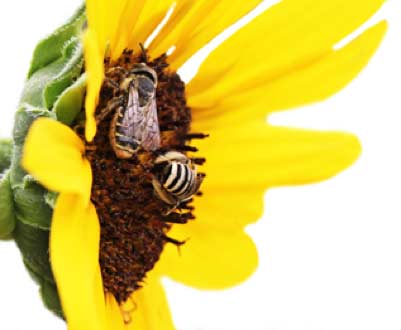 Bees are diverse, abundant, and essential to any landscape with flowering plants.  Though their importance is well-known, the characteristics that make these small insects so interesting are not.  Come learn about the bees that pollinator our wildflowers and make our dinners so tasty!
Olivia Carril has been studying native bees for over 20 years.She is the coauthor of two field guides to native solitary bees: "The bees in your backyard: A guide to North America's bees", and "Common bees of Eastern North America".She is currently conducting studies of bees throughout New Mexico and working on a third field guide.
For more events happening during pollinator week, visit: https://www.pollinator.org/pollinator-week
The event is sponsored by Tree New Mexico and funded by the US Department of Agriculture, Natural Resource Conservation Service.  It is run through Central New Mexico Community College.