PLANTING YOUR CAMPUS
Tree New Mexico offers a special program for teachers, administrators and families that want to plant trees, care for trees, and learn about trees – all at their own campus. 
We can assist in:
planning where the trees will go

choosing the best palette of trees for that unique site 

organizing a community tree planting event to get them in the ground

developing a tree curriculum or weaving trees into a curriculum for your students

and training youth and their families to do the basic care in years to come
Over our 30 years, we've done hundreds of tree programs for youth and planted trees on campuses throughout New Mexico. 
Please look at this form to see the necessary details, and contact us to explore the possibilities! (505) 265-4554, ask to speak to Betta Eisenberg, our Special Projects Program Director, or email beisenberg@treenm.com.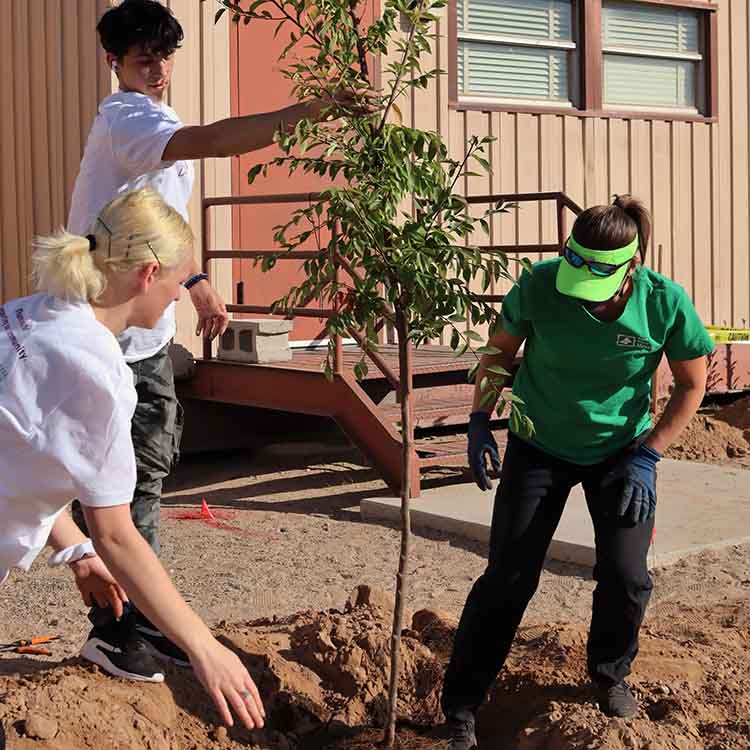 Van Buren Middle School Tree Planting!
Tree New Mexico planted 50 fruit trees in the International District (ID) as part of the EPA Environmental Justice Collaborative Problem-Solving (EJCPS) Cooperative Agreement Program of tree plantings and tree education for a total of $200,000. Van Buren Middle School, Wilson Middle School, several residents and nonprofits received fruit trees in partnership with the HEC Front Yard Garden program that shares produce with neighbors and pedestrians to address the food desert in the area.
Van Buren Middle School's 'Si Se Puede' garden received three apricot and one peach tree to add to their ongoing afterschool program. Bridget Llanes, Van Buren students, and volunteers planted the trees.
Western Heights Learning Center Tree Planting!
Tree New Mexico partnered with Verizon, the Arbor Day Foundation, Tree Green NM, Green Summit Landscape Management, and Southwest Tree Specialists to plant 40 trees at Western Heights Learning Center. The October 2021 planting included irrigation, an orchard of six dwarf fruit trees that children can help harvest, and 35 shade trees across the campus.
Located in the South Valley, Western Height Learning Center is a nonprofit elementary school that has been serving low-income Albuquerque families since 1968. Included in the project is a reclaimed wood bench built by Southwest Tree Specialists and a memorial stone plaque created by Rocky Mountain Stone.
Western Heights Learning Center Community Planting Clips