DONATE
Your Donations ensure we can help citizens plant and care for more trees in urban areas throughout our beloved State. Thank you for doing your part.
Your donations increase the number of trees living, growing, shading and beautifying the cities and towns of New Mexico. Our staff and board work with professional and citizen volunteers and private and public funders to multiply your donation ten-fold.
Why Be a TNM Sustaining Donor?
A small monthly donation ensures thousands of trees are planted and cared for every year in NM.
Sustaining Donor – We want to invite you to become one of our sustaining donors. It's simple and inexpensive. You choose how much you can afford each month and sign up for that amount to be sent to TNM – $10, $20, $50/month or more.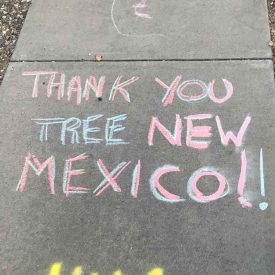 Our "Sustaining Donors" contribute an affordable amount every month to keep us out planting trees:
WE APPRECIATE YOUR SUPPORT – PICK A ONE TIME DONATION LEVEL BELOW OR BECOME A SUSTAINING DONOR