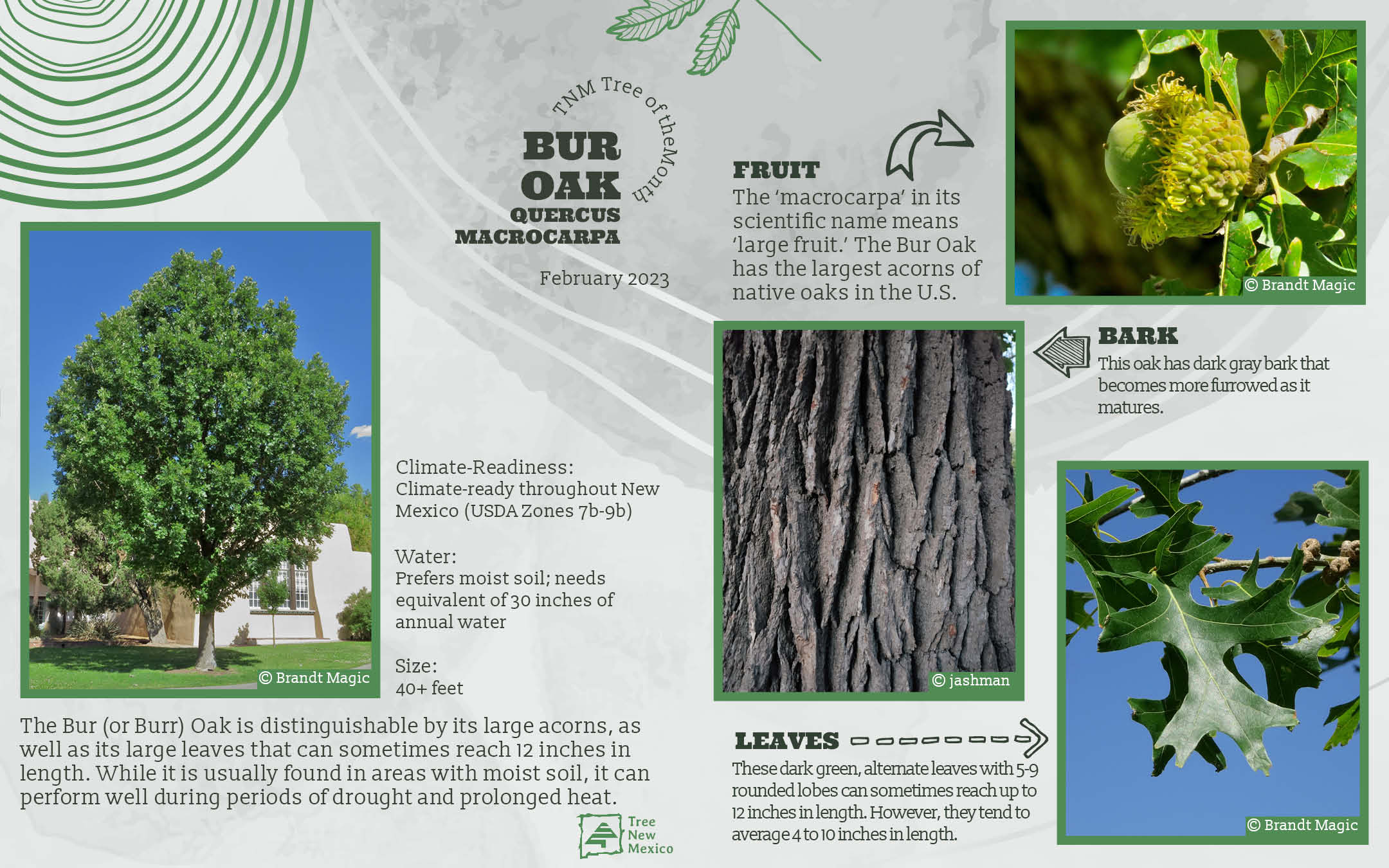 Bur Oak – February 2023 Tree of the Month
February 28, 2023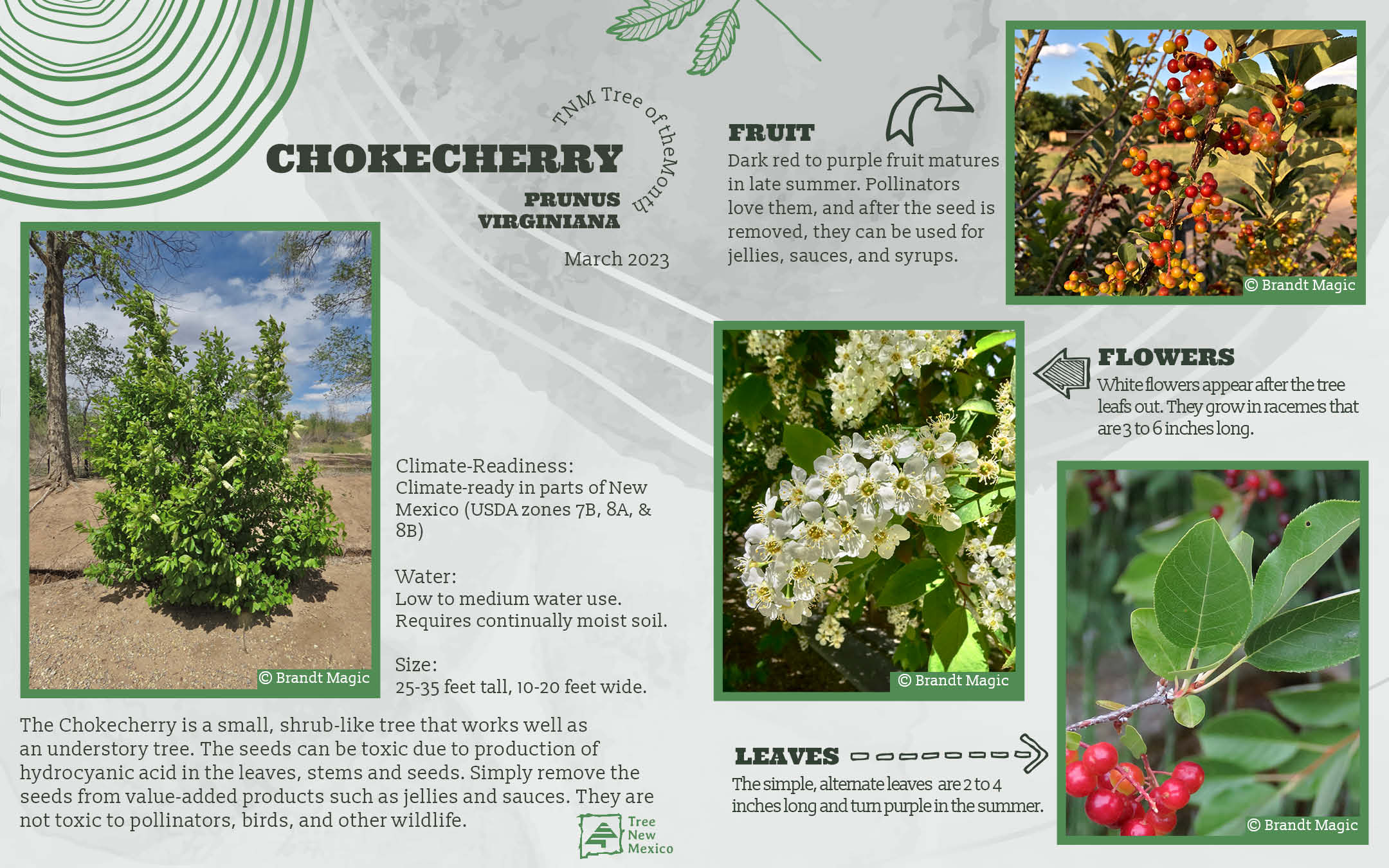 Chokecherry – March Tree of the Month
March 24, 2023
Spring 2023 Tree News
March 2023
Dear Tree Community,
Thank you for all you do to increase the tree canopy and knowledge across the state!All of us at Tree New Mexico are saddened by the passing of Sue Probart, the primary leader of this wonderful organization and one of several founders. On behalf of Sue and her tireless efforts to sow the idea that trees are important, we are working hard to make the spring and fall plantings of 2023 even more successful than ever before. To this end, we are grateful for each one of you… our wonderful tree adopters, volunteers, and partners!
This spring we have four ABQ NeighborWoods planting events scheduled and are busy preparing for each one. We have added a planting at Fraction Farms in the village of Corrales. This unique farm donates over 9,000 lbs. of produce to local foodbanks that focus specifically on feeding hungry kids. We also have two plantings in Santa Fe.
During fall 2023, we are planning three ABQ NeighborWoods plantings, an EPA Cooperative Agreement planting in the International District, as well as NM NeighborWoods plantings in Socorro and Las Cruces. We are expanding across New Mexico!
Sue Probart Memorial Planting
WHEN: April 1, 2023 at 1pm
WHERE: Woodward House
Woodward House is west on Arbor Rd NW (between Griegos Rd and Candelaria Rd) off Rio Grande Blvd, NW or use link above.
DRESS: Casual for walking near farms. Please wear your green Tree New Mexico t-shirt if you have one. If you want to help plant the memorial trees, wear closed-toed shoes and bring gloves.
Please RSVP to Betta at Betta@treenm.org.
The founder of Tree New Mexico, our beloved friend Sue Probart, died on January 9, 2023. She was among family and long-time friends when she passed. Sue started Tree New Mexico in 1990 with a group of high school students and other friends and colleagues who had a great idea. From that time forward she worked tirelessly to enhance and enrich New Mexico and its urban communities with trees and education on how to care for them. Click here to read full announcement.
Photo credit: Michael Payton
Tree New Mexico Spring 2023 Tree Planting Schedule
With Tree Planting Sign-up Links Underlined
Free Tree Awareness Classes
Classes began in January go through April 2023. Join us for a series of free, stand-alone classes on trees and their care. Learn about the biology of trees, their many benefits, which trees are best for ABQ and your yard, how to offset the costs of tree planting, how to extend the life of your trees, and much more!
Class is for participants 18 years old and up.
Registration is required.
Email Kelly White at kelly@treenm.org to register or if you have questions.
January 31: The Benefits of Trees (Class was successful!)
February 28: Tree Anatomy/How Trees work (Class was successful!)
March 28: Tree Planting
April 25: Tree Pruning
Last Tuesday of the month • 6:00 — 7:30 p.m.
International District Library
7601 Central NE 87108
505.768.4970
(Photo Credit: Janie Ramirez) A tree giveaway with trees donated by Apache Corporation.
THANK YOU to our many year-end donors, and to Carroll Petrie Foundation, S.B. Foundation, Apache Corporation, NM Urban & Community Forest, EPA Cooperative Agreement, ABQ City Councilors, ABQ Parks and Recreation, Santa Fe Community Foundation, and TreeGreenNM (a program of the Foundation for Building a Sustainable World) who are all funding Tree New Mexico's work to increase the tree canopy in Albuquerque, Santa Fe, Socorro, and Las Cruces in 2023.
TNM Board members and other wonderful volunteers at a volunteer appreciation event at the RGCU Emerald Building.
Tree New Mexico Board
Tree New Mexico is taking steps to build its board. We need individuals who:
Love Tree New Mexico and what we do

Have volunteered with us and are prepared to invest a bit more time to help us grow and flourish

Have some experience in sitting on a nonprofit board

Are committed to focused, calm, principled leadership and management
Our board does not do day-to-day management or programmatic things; rather, it is a vision/leadership, policy and fiscal responsibility (including some fundraising) board.
If you are interested, please be in touch with Shannon Horst, our Executive Director, at shannon@treenm.org.
(Photo credit: Terry Ahlert) 2022 Tree Stewards meeting at the Woodward House Nursery
ABC Tree Stewards Gear Up for 2023
Tree Stewards are trained tree volunteers that support trees and residents in ABQ and soon across the state. They visit with people throughout ABQ who have questions about their trees. Many of them are working to reorganize the small but lovely Woodward House Tree Nursery in the north bosque. There they also help to maintain and grow out the nursery's trees for NeighborWood's giveaways.
If you or someone you know has an interest in becoming an ABC Tree Steward, contact Kelly White to get on the list. These people will be first to receive news of the application being released (sometime in May/June). The 2023 ABC Tree Steward Program will begin in August and run through November. See the Tree New Mexico website or contact Kelly for more detailed information about this worthwhile volunteer opportunity.
Healthy Trees
The below recommendations can help you save time and money. They will also help you to enjoy your tree(s) for a very long time.
Effective Tree Watering:
Even though it's still winter and temperatures can reach below freezing at night, trees still need to be watered. From now until the middle of March water your tree at least once a month. Increase it to twice a month as the weather warms (middle of March and beyond).
For small/younger trees set a hose to barely drip and place it between the trunk and outer edge of the tree canopy. Leave it there for a long time (several hours or even overnight) allowing water to slowly percolate down to the root zone (2 to 3 feet below the surface). You will find that the water has soaked in all around the tree and gone down deeply, If it is a large older tree you may want to move it to the other side of the tree and repeat the low and slow watering effort. Here is video on watering your tree.
Mulch and Ground Cover:
Ground covered with plastic INCLUDING landscape cloth does not allow water to move down into the soil where tree roots can access it. To maintain a healthy tree, you will want to remove it from around your tree(s). Remove it to just beyond the edge of the tree's canopy.
Wood mulch is the best for a tree. Although it may look nice, rock gravel holds and radiates heat causing the ground to be warmer and some of the water you are giving your tree to be released into the air instead of the ground where it benefits the tree. When a tree is well mulched, it will hold moisture in the ground for significantly longer periods of time saving you time and money. It will also feed your soil saving you money on costly fertilizers. We recommend adding new mulch every couple of years and spreading it out around the tree 3″ to 5" deep.
Staking:
Most trees do not need staking.
To determine whether your new tree needs to be staked…Gently, but firmly move the upper part of the tree from side to side as the wind will do naturally when it blows the tree about. If there is no soil movement at the base of the tree, it is solidly in the ground and does not need staking. Trees should move naturally with the wind. This is how they build up their endurance and "tree muscle".
NEVER… place anything along the trunk of a tree and fasten the tree to it! Instead, place two to four (depending on tree size, location, etc.) stakes around the tree. NEVER use wire, duct tape, plastic tape or anything hard and unyielding against the surface of a tree!
One of the best things to use when staking a tree is pantyhose or knee highs. This type of nylon has significant give and can provide support without constricting the tree from moving. For instructions on how to attach nylons for best tree support, see our website and videos on staking.
Pruning:
Pruning your tree should not be done until the tree has been in the ground for 3 years. At any time, always follow the "Pruning Principles of the 4 D's" and remove only the following when pruning your tree.
Damaged limbs/branches
Dead limbs/branches
Deranged limbs/branches (where two branches are crossing and hitting on one another)
Diseased limbs/branches
If you are eager to prune your own trees, we encourage you to take a class in tree pruning. You can email Kelly White for more information about free Tree New Mexico pruning classes. Pruning is hard on a tree but if done thoughtfully and correctly, it can prevent future tree failures and help to prolong the life of your tree.
Required Minimum Distributions (RMDs)
Some donors who have required minimum distributions (RMDs) on their retirement accounts, may be able to contribute to Tree New Mexico without paying taxes on that money. It is called a qualified charitable distribution (QCD). With a QCD, money goes directly from the donor's custodian to TreeNM. The donor can satisfy their RMD, donate to all their favorite charities, and avoid paying taxes all by setting up the QCD. The money saved on taxes goes directly to the charity. It could be a win/win situation. Email Tamar Randall at Tamar@treenm.org if you have any questions.
Thank YOU for All You Do!
Tamar
Tamar Randall
Development Director
Tree New Mexico
505.265.4554
tamar@treenm.org
treenm.org