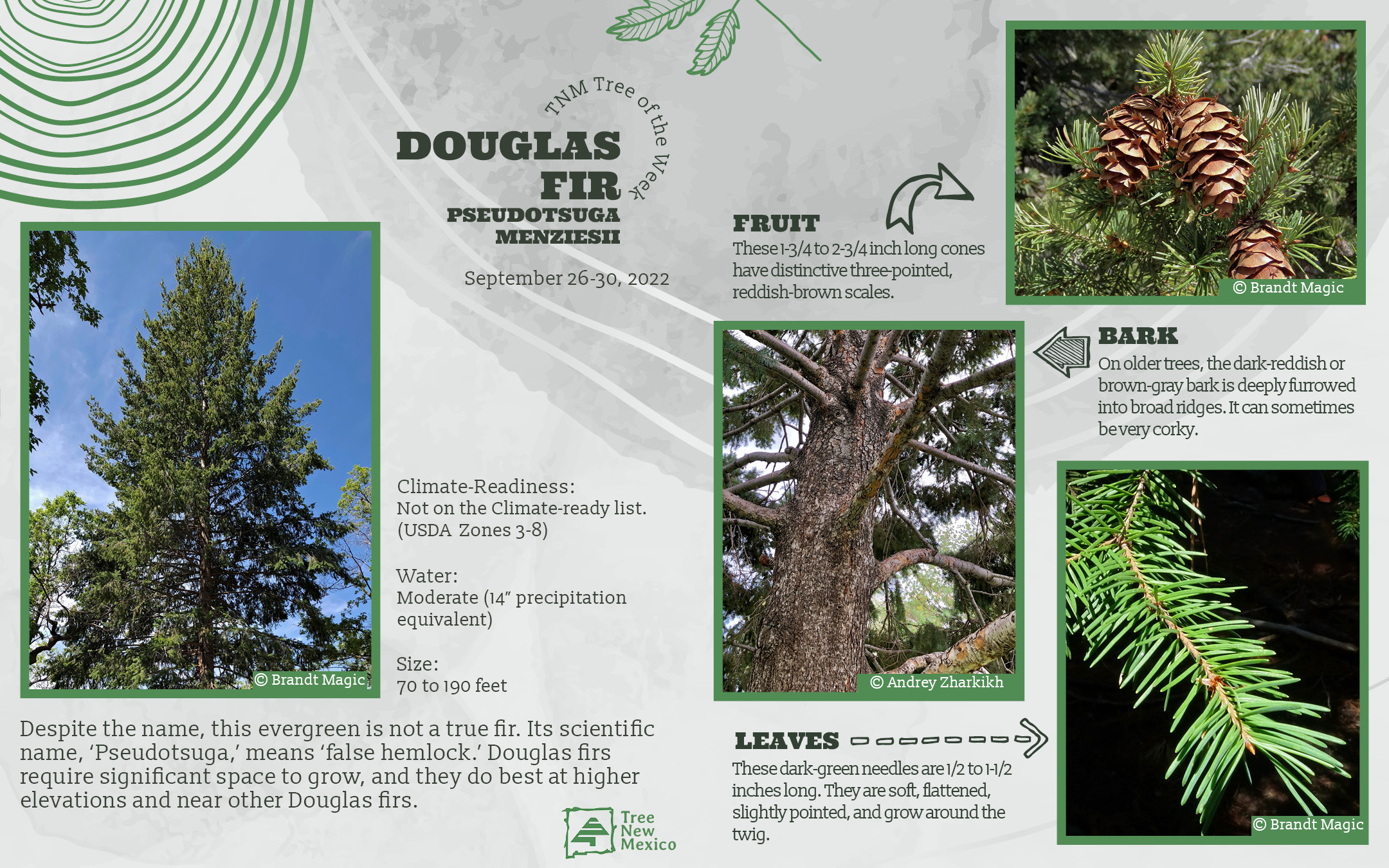 Douglas fir
September 29, 2022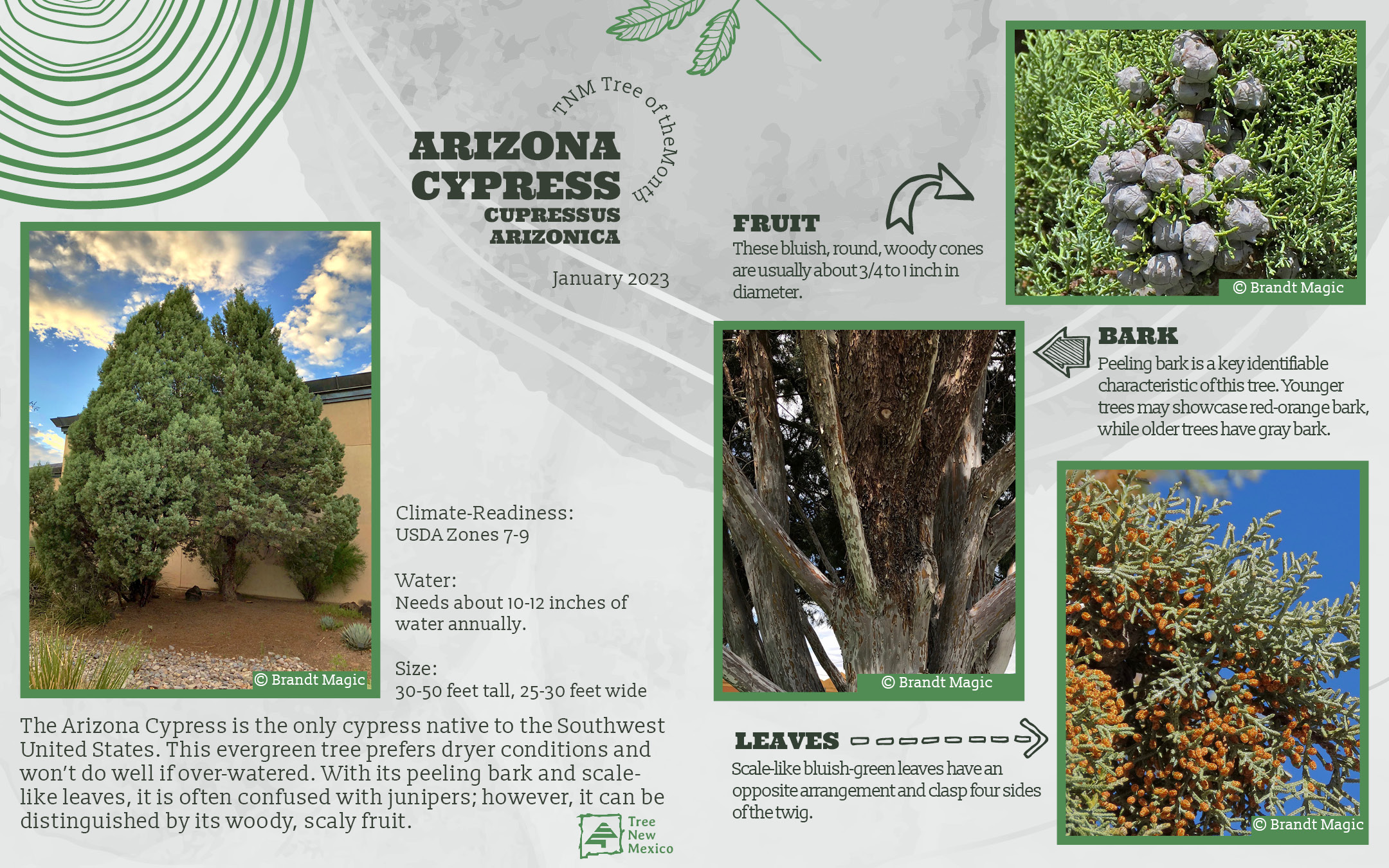 Arizona Cypress – January Tree of the Month
January 9, 2023
Tree New Mexico Gratitude
December 2022
Dear Tree Community,
We hope this finds everyone well and enjoying friends and family for the holiday!
Thank you all for helping to increase the tree canopy in New Mexico during the fall 2022 planting season! So many wonderful people made this season successful!
Tree New Mexico planted four ABQ NeighborWoods plantings funded by ABQ City Councilors – one each by Councilor Benton and Councilor Bassan and two by Councilor Feibelkorn. These plantings were in McDuffie-Twin Parks and Mark Twain neighborhoods and the combined neighborhoods of Heritage East and Quintessence, and West Park and Huning Castle.
As part of our EPA Cooperative Agreement, we planted 50 fruit trees in the International District in Front Yard Gardens to address the food desert. La Puerta de los Niños and Adobe Acres Elementary School also received planted trees and tree education.
All of Tree New Mexico and all the tree adopters, neighborhoods, and schools, are grateful to the tree planters, team leaders, tree stewards, canvassers, table volunteers, ABQ city councilors, ABQ Parks and Recreation Department, the EPA Cooperative Agreement, KUNM & IVS, TreeGreenNM (a program of the Foundation for Building a Sustainable World), HEC, IDHCC, the ABQ Water Utility Authority Treebate program, AND YOU! Thank you for being part of increasing the tree canopy in New Mexico!
Since 2017, Tree New Mexico has increased the tree canopy by 8,061 trees!
Gratitude for Tree Planters
Trained team leaders and tree planters donate Saturday mornings to plant trees in neighborhoods and on school campuses. Communities come together to make a difference!
Thank you to wonderful groups from the Air Force ROTC at UNM, AF 250th, HEC, IDHCC, Intel, Ismaili Civic Group, KUNM, M.T.O. Shahmaghsoudi®, Project Feed the Hood SWOP, Rio Grande Credit Union, Rural Student Project at UNM, T4B, Tree School, and Wilson Middle School students who planted this season!
Photo credit: Michael Payton
Gratitude for Tree Stewards
Tree Stewards take a 10-week course to learn more about trees and tree care. This season, ABC Tree Stewards educated volunteers, tree giveaway recipients, and students on planting and tree care. They pruned, re-potted, watered, and monitored trees. Tree Stewards also continued learning with educational field trips.
Tree planting at Adobe Acres Elementary School with Tree Steward Kevin Gourley teaching. Photo Credit: Rachel Hendrix
Gratitude for Canvassers and Welcome Table Volunteers
Neighborhood association members canvass neighborhoods to find tree adopters that will care for a free planted tree. Welcome table volunteers help TNM staff organize large community planting events. We appreciate you!
Great canvassers and welcome table volunteers from the McDuffie-Twin Parks Neighborhood. Photo credit: Luis Santiago
Gratitude for Tree Adopters
Tree adopters accept a free planted tree, then they water and care for it. Tree giveaway recipients plant their tree, water, and care for it. Thank You!
Mark Twain Neighborhood tree giveaway. Photo credit: Janie Ramirez
Gratitude for ABQ City Councilors and Parks and Recreation Department
ABQ NeighborWoods Program plantings are funded by city councilors' discretionary funds or by ABQ Parks and Recreation Department. We are grateful!
City Councilors Isaac Benton and Tammy Fiebelkorn. Photo credit: Janie Ramirez
Gratitude for Funders
Individual donors, an EPA Cooperative Agreement, KUNM & IVS Fundraising, and TreeGreenNM (a program of the Foundation for Building a Sustainable World) paid for tree plantings and tree education this season. Yay trees!
Chanda Shaw, KUNM Development Director, at Casas de Sueño Old Town Historic Inn for tree planting and plaque placement. Photo credit: Janie Ramirez
Gratitude for Wonderful Partners
TNM is grateful for wonderful partners, HEC and IDHCC, that participated in many ways from identifying fruit tree adopters, canvassing neighborhoods, planting trees, leading teams, providing coffee and burritos to planters, sharing space at Cyclovia, and anything else that needed doing! You are the BEST!
EPA site visit with representatives from HEC, ABQ Air Quality, and TNM at Wilson Wildcat Blooms Garden. Photo credit: Kate Porterfield
Gratitude for Tree-Bate
The ABC Water Utility Authority gives water rebates for planting trees. Thanks!
Photo credit: Rachel Hendrix
Gratitude for Great Locations
Community events with over 100 people and 100 trees require space to meet. Thank you to ABQ Parks and Recreation for use of city parks, and to the Albuquerque Little Theater, Uptown Church, and Whittier Elementary School for use of their buildings and parking lots.
Tree Giveaway at the Bataan Memorial Park. Photo credit: Janie Ramirez
Gratitude for Tireless TNM Staff
Shannon Horst, Kelly White, Betta Eisenberg, Maria Padilla, Luis Santiago, Rachel Hendrix, Maureen Poulas, and Tamar Randall believe in Tree New Mexico's mission!
Gratitude for the Tree New Mexico Board
Thank you to Suzanne Probart, James Maddox, Gary Benton, Michael Payton, and Laura Rummler for serving on the TNM Board and all the different ongoing support!
Tree New Mexico is grateful to be part of the Let's Plant Albuquerque Team!
Mayor Keller asked Albuquerque citizens to plant a tree for every child for a total of 100,000 trees by 2030. Tree New Mexico, with the help of many wonderful volunteers, funders, and donors, is responsible for more than 8,000 of these trees in Albuquerque and plans to plant many more.
Please see the website for more information: Lets Plant ABQ – 100,000 Trees in Albuquerque by 2030.
Photo credit: Luis Santiago
Thank YOU for All You Do!
Tamar
Tamar Randall
Development Director
Tree New Mexico
505.265.4554
trandall@treenm.com
treenm.org