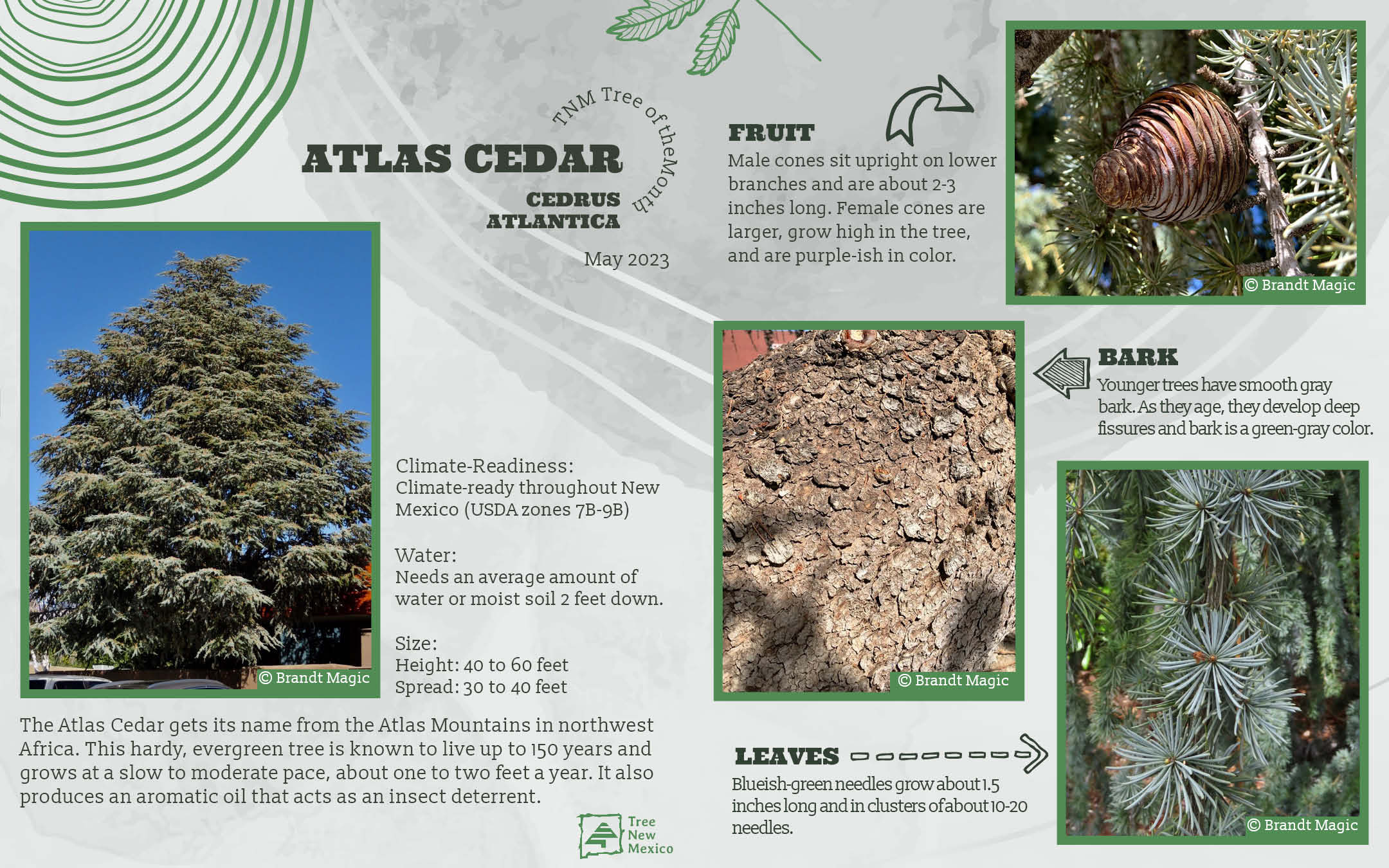 Golden Rain – June 2023 Tree of the Month
June 28, 2023
by Kelly White (Tree New Mexico's Education Specialist)
How can I water my tree more effectively and efficiently?
Make sure your tree is well mulched, preferably with wood mulch, about 4 to 6 inches from the base of the tree out to the edge of its canopy. Wood mulch is the best, and it can be obtained at little cost or for free. It not only holds the moisture in the ground, but as it breaks down, it fertilizes your tree, saving you money on water and costly chemical fertilizers.
Be sure to remove any plastic or landscape cloth under the mulch as it inhibits water from entering into the ground thereby wasting the water you are applying.
To begin watering your tree the rule is "low, slow and deep"! You want every drop of the water coming from your hose to go into the ground 2.5 to 3 feet deep. To do this, set your hose to dribble VERY slowly (just a bit more than a drip) and bury the head of the hose under the mulch about halfway between the base of the tree and the edge of the canopy (where the leaves stop). Leave it there for several hours. If the tree is a large tree or your soil is very dry, you can leave it overnight. Depending on tree size and soil type, you may have to initially move it to the other side of the tree or move it several times around the base of the tree to get the soil moistened down deep.
How will I know if my hose is not set low and slow enough?
It will run out from under the mulched area and potentially onto the pavement and down the street. This wastes water and costs you money!
How do I know when the water has gone deep enough to encourage the roots to grow down where they belong?
Take a 3-foot screwdriver or similar object (piece of rebar, a metal rod, etc.) and push it into the ground throughout the mulched area beneath the tree. The screwdriver will go into the ground only as deep as there is moisture. If it doesn't go down at least 2.5', water that area longer.
How will I know when to water again?
By using this same method of testing the soil for moisture. You can pay for a moisture meter, but you don't have to buy anything (including plastic gadgets like watering tubes) when this method works so well.
How does watering this way save me money?
Every drop of water is moving into the ground to water your tree. You will find you need to water less often and that you are applying less water than you were before. Your water bill will reflect this!
What if I have drip irrigation?
We recommend you supplement your drip irrigation using the method described above. Remember to check the soil around your tree to ensure that the moisture is reaching that 2.5 to 3 foot depth! Drip irrigation is set for shrubs and flowers and rarely waters the tree(s) thoroughly enough to keep it healthy. A tree that becomes unhealthy is more susceptible to pests and diseases. (Note, the standard two bubblers right at the base of your tree, that landscape companies install, will not water to the edge of the canopy as the tree expands in size. They will eventually be in the way of the tree's expansion.)