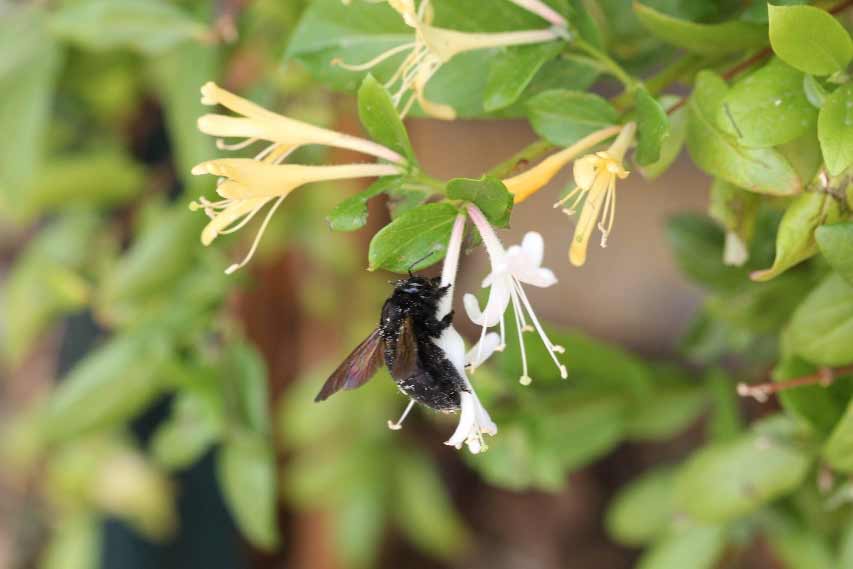 Bees and Trees that Please in New Mexico
May 5, 2021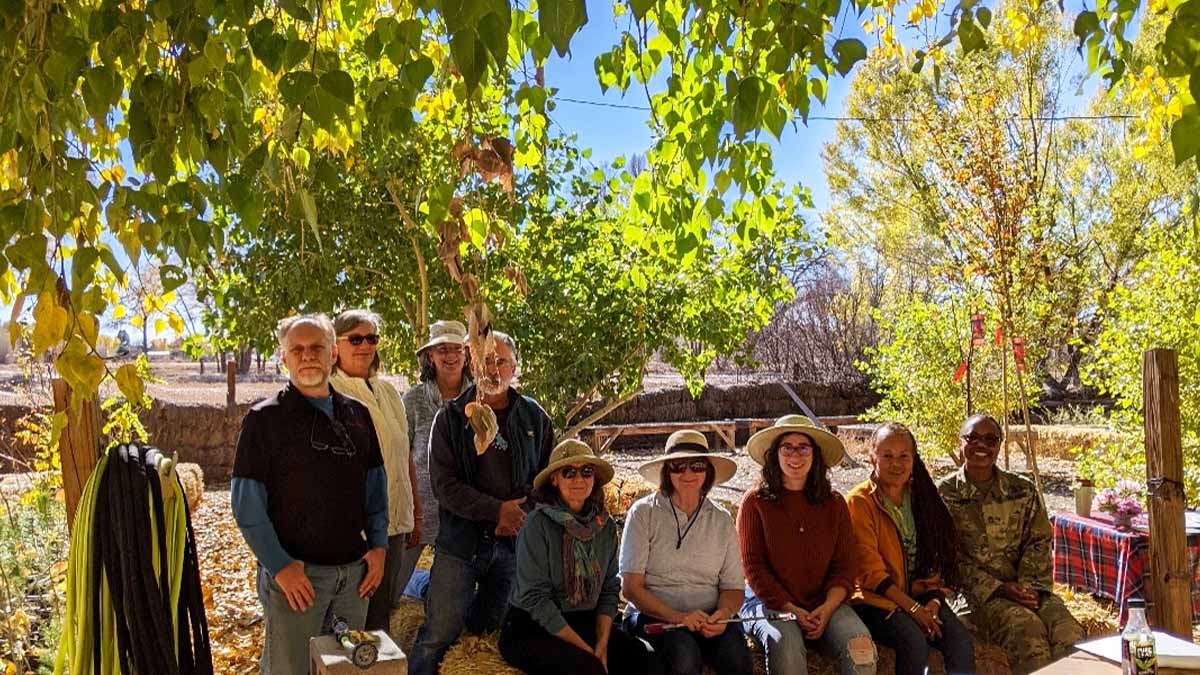 2021 Tree Steward Graduates
November 22, 2021
WHAT YOU NEED TO KNOW ABOUT STAKING NEW TREES By Davey Trees 
While it seems like young trees need extra support, most trees don't need to be staked. Staking trees that don't need it can cause the tree to grow fewer roots and develop a weak tree base.  Only stake your tree if it needs extra support, protection, or help staying anchored.
SHOULD YOU STAKE YOUR NEW TREE?
If you properly planted a healthy tree with a sturdy trunk and solid root system, chances are you won't have to stake it. You also don't have to stake evergreens, conifers or trees that have branches growing lower to the ground. There are times when you should stake trees, though.
DO STAKE:
Bare-root trees or trees with a small root ball.

New trees that can't stand on their own or those that begin to lean.

Tall, top-heavy trees with no lower branches.

Young trees if you live in a very windy area or if the soil is too wet or loose.

Trees planted in areas with lots of foot traffic, like a sidewalk or street only as needed.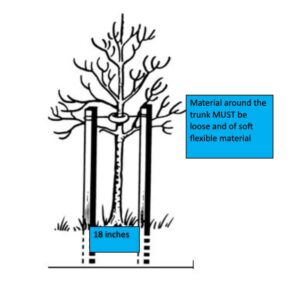 IF YOUR NEW TREE NEEDS STAKING, HERE'S HOW TO STAKE IT FOR SUPPORT.
Remove the nursery stakes and find two or three stakes (wooden or metal). Place your hand on the trunk and see where it needs to be steadied. That's how tall your stakes should be.

Place the two stakes opposite each other and at least about 18 inches away from the trunk in solid ground and away from the root ball. Use the third stake only if needed and put on an open side of the tree.

Use a soft material, like panty hose or tree staking straps, to attach the stakes. Allow enough slack around the trunk, so the tree can naturally sway. Don't use rope or wire, as these will damage the trunk.
HOW LONG SHOULD YOU KEEP A TREE STAKED?
Generally, remove the stake the next growing season. If you add a stake in spring, remove in fall. If you stake in fall, remove in spring. Otherwise, the tree will depend on the stake and won't stand on its own.
Also, make sure you always remove any constrictions around the branches like tags or ties etc! The tree can eventually grow around these, which could potentially cut off the flow of water and nutrients and kill the branch or tree.
(May 9, 2017 https://blog.davey.com/2017/05/how-to-stake-a-tree-properly-and-how-long-to-keep-it-staked/)